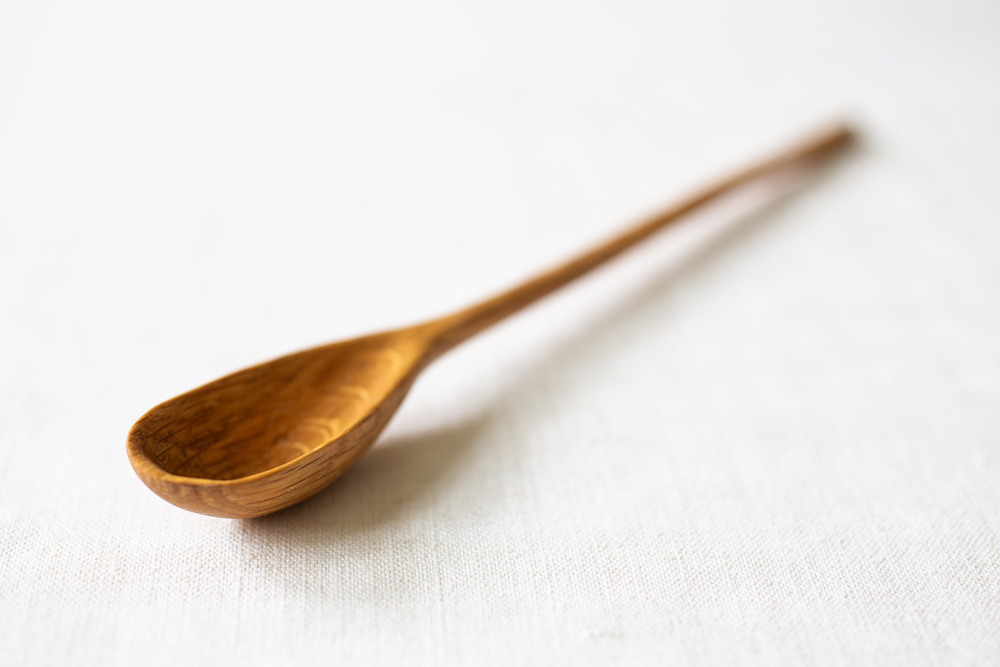 'Haaaaa-choo… ha-choo!' Brandon was making a spoon out of Sneezewood in the cellar-cum-workshop below the kitchen – learning first-hand how this wood got its name. The peppery oils released when it's cut meant it was a dead giveaway when he worked on that spoon. I was upstairs, chopping and caramelising a pot of onions, matching his involuntary sneezing with involuntary tears. As I sliced through allium layers and gazed at the buttery pieces, sputtering at a happy bubble, I started to think about the similarities in what each of us was doing.
This was the second spoon Brandon had made and the first time he'd mastered a smooth hollow in the face. After celebrating its curves, he used it to stir a batch of fudge so sweet you could feel the tooth decay taking hold just by looking at it. And that's when we learned that unless you're intentionally looking to impart bitterness in a magical flavour switcheroo, Sneezewood is probably not the best wood to use for a spoon.
Brandon was at the beginning of his journey in this particular area of wood carving, whereas I've lost count of how many onions I've chopped. I no longer think about whether I've chosen the right knife or how to hold it so it feels comfortable in my hand. He had just worked out that a combination of the U-shaped gouge and gooseneck scraper were the key to a seamless hollow.
The progression of his spoons tells a story. The first was made of Kingwood, the rare rosewood used for guitar inlays. This spoon is the colour of chestnuts, with a natural lustre that compels you to reach out and touch it. The choice of raw material reminded me of how, when we started cooking, we would seek out what we perceived to be 'fancy' ingredients in the misguided belief it made us better cooks. (In Brandon's defence though, the reason he chose a special wood for this particular spoon is because it marks 21 years of us cooking together.)
The second was a lesson in finding the right tool for the technique (the gouge and the gooseneck) and the third was a similar design, but in a neutral wood, so a lesson in sourcing the right 'produce' for purpose. The latest, a petite tasting spoon made from an oak-barrel offcut, is the most beautiful illustration of refining technique. Like creating something delicious out of an ingredient some might deem 'waste' because you know just how to treat it.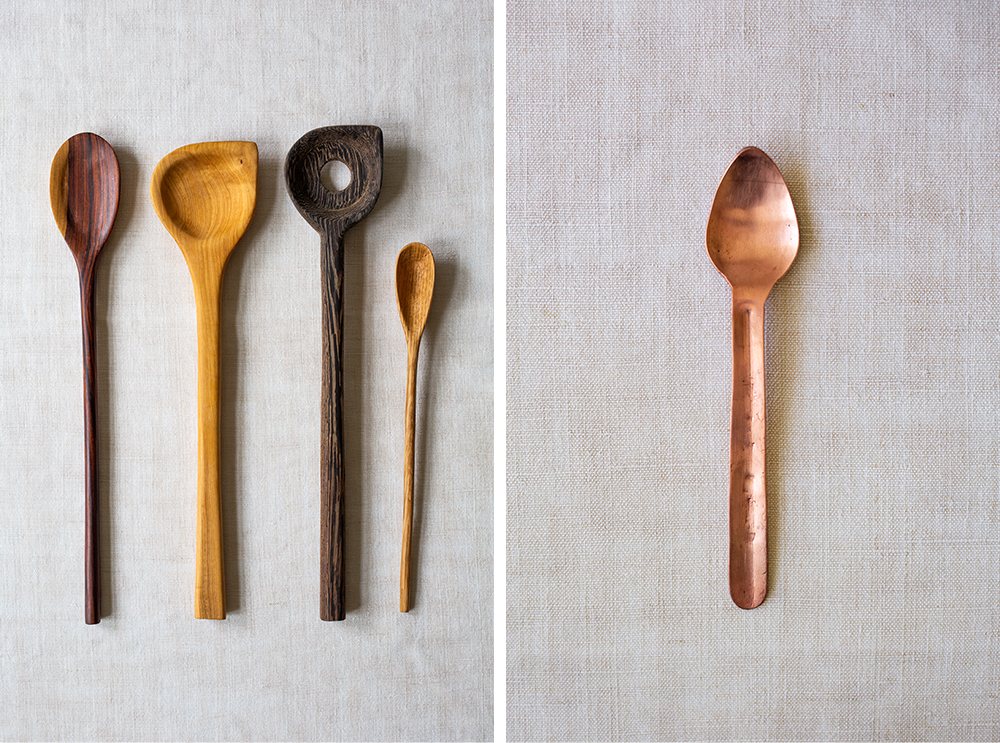 Although I have nothing lasting to show for how my onion chopping has progressed, it is on teaching how to chop an onion that I'm reminded how much I take for granted and how awkward learning a physical task can feel at first, which is why the trick is to keep doing it. Brandon didn't make a spoon, tick it off, and then make a butter knife. He made another spoon, with the intention of reaching that intangible moment of mastery. And I'm guessing our spoon family will continue to grow.
If, in this age of novelty, you balk at the idea of repetition, Mary Catherine Bateson reminds us, 'To practice […] is to repeat what appears to be the same action over and over, attentively, mindfully, in a way that makes possible a gradual – almost imperceptible at times – process of change.' Whether you choose to make chopping an onion a mind-ful or a mind-less activity is up to you.
The sense that handwork – and by extension cooking – is somehow lesser, was conveyed when making subject choices in high school (this was mainstream education in the 90s). Manual competency wasn't valued in the same way as academic achievement. 'Working with your hands' wasn't seen as a conscious choice but a Plan B if you didn't have the marks to become a 'knowledge worker'. Yet how is handwork not knowledge work?
From what I observed of Brandon's process, it required careful analysis and problem solving in finding a path from the conceptual to the material (much like cooking without recipes). With each repeated action the movements become more natural, and there is a deepening of understanding until the knowledge is expressed physically (not unlike cooking).
Brandon has carved wood since he was a boy and comes from a long line of manual dexterity. (His mum always told the story of Brandon's grandmother unwrapping a power drill on the first Christmas they met.) My only attempt is a copper teaspoon made in primary school, when I challenged the notion of girls doing needlework and was accepted into woodwork class. We made one spoon and moved on to making a wooden boat. That spoon and I still have unfinished business.
Unlike woodwork, cooking is something we're all likely to do and eating is very definitely something we all have to do! But like woodwork, cooking requires exercising powers of observation, developing judgement and finding solutions through creating. The process undoubtedly has the same, if not more, value than the final product. Which is why, through something as simple as chopping and caramelising an onion, you can choose to turn practicing into a practice – and by honing your skills, you are honing your thinking.
© How to Cook without Recipes 2022 | words Nikki Werner | photographs Brandon de Kock